Search
Passionflower
Common Names: passionflower, maypop, apricot vine, maracuja, water lemon
Latin Names: Passiflora incarnata
Background
Passionflower is a climbing vine that is native to the southeastern United States and Central and South America.
Native peoples of the Americas used passionflower as a sedative. Sixteenth-century Spanish explorers in South America learned of passionflower. The plant was then brought to Europe, where it became widely cultivated and was introduced to European folk medicine.
Today, passionflower is promoted as a dietary supplement for anxiety and sleep problems, as well as for pain, heart rhythm problems, menopausal symptoms, and attention-deficit hyperactivity disorder. It is applied to the skin for burns and to treat hemorrhoids.
How Much Do We Know?
Passionflower's effect on anxiety and other conditions hasn't been studied extensively.
What Have We Learned?
A small amount of research suggests that passionflower might help to reduce nonspecific anxiety and anxiety before a surgical or dental procedure, but conclusions are not definite.
There is not enough evidence to say whether passionflower is helpful for any other health conditions, including attention-deficit hyperactivity disorder, congestive heart failure, insomnia, and stress.
What Do We Know About Safety?
Up to 800 mg daily of a dried alcoholic extract of passionflower has been used with apparent safety in studies lasting up to 8 weeks, but it may cause drowsiness, confusion, and uncoordinated movement (ataxia) in some people. Passionflower used in excessive amounts (e.g., 3.5 grams of a specific extract over a 2-day period) may be unsafe.
Whether it's safe to use passionflower topically (on skin) is not known.
Passionflower should not be used during pregnancy as it may induce uterine contractions. Little is known about whether it's safe to use passionflower while breastfeeding.
Keep in Mind
Take charge of your health—talk with your health care providers about any complementary health approaches you use. Together, you can make shared, well-informed decisions.
For More Information
NCCIH Clearinghouse
The NCCIH Clearinghouse provides information on NCCIH and complementary and integrative health approaches, including publications and searches of Federal databases of scientific and medical literature. The Clearinghouse does not provide medical advice, treatment recommendations, or referrals to practitioners.
Toll-free in the U.S.: 1-888-644-6226
tty (for deaf and hard-of-hearing callers):
1-866-464-3615
Website: https://nccih.nih.gov/
Email: info@nccih.nih.gov(link sends email)
PubMed®
A service of the National Library of Medicine, PubMed® contains publication information and (in most cases) brief summaries of articles from scientific and medical journals. For guidance from NCCIH on using PubMed, see How To Find Information About Complementary Health Approaches on PubMed.
Website: https://pubmed.ncbi.nlm.nih.gov/
Office of Dietary Supplements (ODS), National Institutes of Health (NIH)
ODS seeks to strengthen knowledge and understanding of dietary supplements by evaluating scientific information, supporting research, sharing research results, and educating the public. Its resources include publications (such as Dietary Supplements: What You Need To Know) and fact sheets on a variety of specific supplement ingredients and products (such as vitamin D and multivitamin/mineral supplements).
Website: https://ods.od.nih.gov/
Email: ods@nih.gov(link sends email)
Key References
Anheyer D, Lauche R, Schumann D, et al. Herbal medicines in children with attention deficit hyperactivity disorder (ADHD): a systematic review. Complementary Therapies in Medicine. 2017;30:14-23.
Miroddi M, Calapai G, Navarra M, et al. Passiflora incarnata L: ethnopharmacology, clinical application, safety and evaluation of clinical trials. Journal of Ethnopharmacology. 2013;150(3):791-804.
Ozturk Z, Kalayci CC. Pregnancy outcomes in psychiatric patients treated with Passiflora incarnata. Complementary Therapies in Medicine. 2018;36:30-32.
Passionflower. Natural Medicines website. Accessed at naturalmedicines.therapeuticresearch.com on April 3, 2020. [Database subscription].
Sarris J. Herbal medicines in the treatment of psychiatric disorders: 10-year updated review. Phytotherapy Research. 2018;32:1147-1162.
This publication is not copyrighted and is in the public domain. Duplication is encouraged.
NCCIH has provided this material for your information. It is not intended to substitute for the medical expertise and advice of your health care provider(s). We encourage you to discuss any decisions about treatment or care with your health care provider. The mention of any product, service, or therapy is not an endorsement by NCCIH.Last Updated: August 2020Share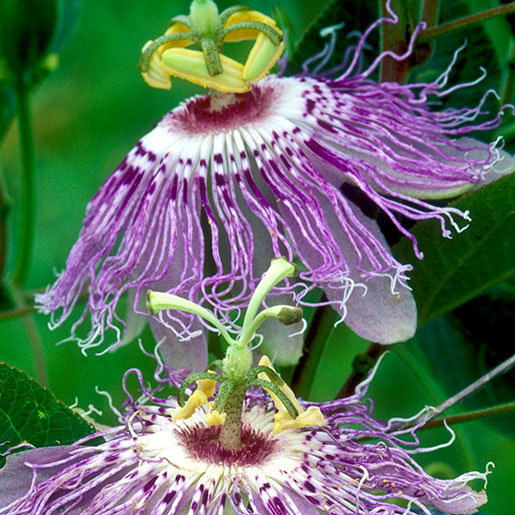 Related Topics